Unique, rustic and perfect for couples who love the outdoors, I handcraft nature inspired wedding rings so you can tie the knot — your way. With your guidance, we'll design a pair of wedding rings that reflect your relationship, incorporates natural textures and lasts forever.
Get in touch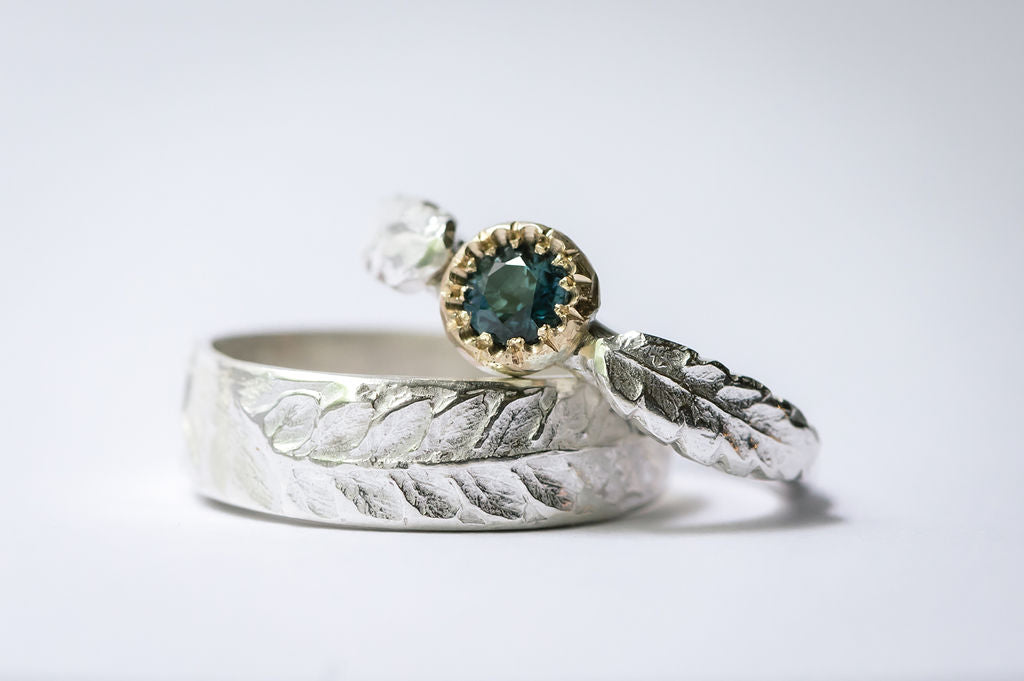 Capture memories of your adventure together
I create wedding rings that hold memories of your adventure, incorporating any natural textures that hold meaning to you both. Whether it's a shell from the beach you're getting married on, a leaf collected from your travels, or a piece of driftwood from where you went on your first date — I'll work with you to create something that's truly yours.
Get in touch
Choose your stones and materials
When you work with me to create your nature inspired wedding rings, you have the option to select your choice of metal and decide whether or not you would like to encorporate stones. I can also make recommendations that sit within your budget. 
Some popular materials used ofr wedding bands...
Yellow gold, white gold, rose gold and sterling silver.
I choose to work with ethical suppliers that prioritise sustainability wherever possible, which means you can feel good knowing exactly where your ring comes from (learn more about my ethos here).
Get in touch
How it works
1 Get in touch.
Send me an email with your names, details and any ideas you may already have for your wedding rings.  
2 Design. 
We'll meet at my studio (or virtually) and start to bring your ideas alive. I encourage you to bring any natural materials you'd like to work with — then I'll draft some sketches and keep you updated along the way. 
3 Creation.
When you're both happy with the design, I start the creation process. Allow 1-3 months for me to handmake your special pieces (timing can also depend on the time of year). If you've already set your wedding date, I recommend getting in touch as early as possible.
4 Your big day.
I'll let you know as soon as your rings are ready. You can either collect your rings in person from my studio or I'll post them to you under registered, express and insured post. Just like that, you're ready to tie the knot! 
Get in touch
"We couldn't have asked for a better experience, both in the planning and creating of our engagement ring and wedding band.
Kate took such care of our requests and ideas and gave us the time and input to help us create the most personal and precious symbols of ourselves and our marriage.
Kate manages to take what you're thinking and expertly form it into a work of art and incredible beauty!"
"My wedding, engagement and eternity rings had become
worn and damaged after wearing them everywhere for the last 24 years.
Kate Macindoe worked alongside me, helping redesign and recycle the old into something absolutely gorgeous and new. I collected a feather from the sea off the coast whilst boating with my husband (Albatross mate for life) and that was the impression for my new engagement ring.
Kate did a wonderful job and I will treasure my new mermaid jewels forever!"
FAQs
Do you repurpose existing rings?
Yes. If you already have a ring or stone you'd love me to work with, including pieces been passed down through generations, I'd love to chat. I love the idea of re-purposing beautiful stones and turning them into a piece that reflects your style. This way, it can be loved and worn in years to come. 
We have no idea what we want! Can you advise us on materials? 
Absolutely. If you're overwhelmed, I'll walk you through the process and involve you every step of the way — from choosing stones to showing you examples of how your final rings can look. 
Do you design engagement rings to match?
Absolutely! If you're looking for an engagement ring to propose, check out my nature inspired engagement rings.